Decoding of markings of e-ink screens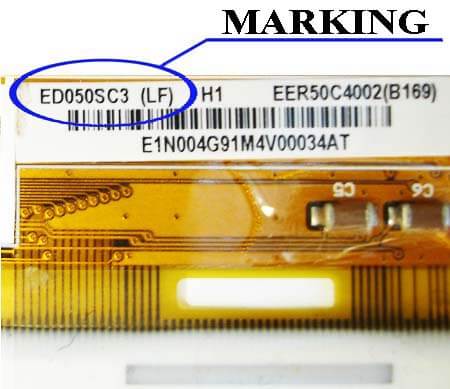 There is an alphanumeric marking of the model on a flexible cable. From this information you can learn the manufacturer and some parameters. Let's analyze the marking in detail.

The first letters of the marking contain the information about the manufacturer of the display:
letters ED - E-ink Corporation;
letters LB - LG DisplayCompany;
letters OPM - OED Technologies CO., LTD.;
letter A - Sipix Imaging Inc.
You can learn more about manufacturers of e-ink displays
here
.
The numbers which are after the letters mean the size of diagonal of the screen:
043 - 4,3 inches;
050 - 5 inches;
060 - 6 inches;
068 - 6,8 inches;
080 - 8 inches;
097 - 9,7 inches;
Then there are letters and numbers which mean the name of the model, for example, SCE(LF). This name, unfortuntely, can not be decoded. Different models of screens have different resolution, way of producing and construction of socket of the flexible cable.
After the name of the model there can be some more letters and numbers. We have named them "option". This symbols are probably technological information of the manufacturer (batch number etc.). They do not influence the functions of the display.
Be attentive when you order a new screen as displays with additional functions of backlight and sensor have the same markings as displays without these functions. The only difference is the appearance - the number of flexible cables. Compare the photo in the site of the shop with the screen of your e-book.



Back