Touch panels of tablets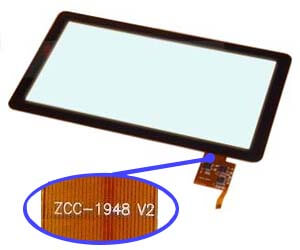 The most prevalent malfunction of tablets and e-readers is crushed screen. At small deformations only up glass with touch layer is damaged. It's called touch panel or touch screen. If the hit and deformation are too strong the display of your device is damaged too.
Attention: authors aren't responsible for malfunctions of your devices, which can be got as a result of using this information. Everything you do is for your fear and risk. Using of such method removes tablet or an e-book from warranty service!
Is it possible to change the touch screen yourself? Of course, it is, but you should be very careful. Methods of change for different models are similar and are shown well on Youtube. For example here, here and here. Labeling, which must be ordered by the panel, most often located on its ribbon cable.
Optimal temperature of desoldering drier is 180 degrees. It's not enough for deformation of plastic case, but it's ok for melting of glue, by which touch screen is connected to the case.
If the older layer of glue doesn't hold even after warming-up of touch screen on the perimeter, you may need glue for repairing mobile phones B-7000 or thin 3M double sided tape on the plastic base.
We have accumulated quite a lot of information on the touch panels used in modern tablets and reader with TFT and IPS screens. To ease the the problem of finding, buying and replacing the panels in your device, this information has been kept in the general table below.
In the table "Buy" below the icons with arrows are links to pages online - shops offering this model touch screen.
| | | | | | |
| --- | --- | --- | --- | --- | --- |
| Mo­del of tab­let | Mar­king of Touch­screen | Di­ago­nal, inch | Scre­en ra­tio | Num­ber of pins of the ta­pe | Buy |
| 3Q Surf RC0702B | A010-C07003A | 7 | 16:9 | 6 | |
| ASUS FE170 | 5581L FPC-1 | 7 | 16:9 | 40 | |
| ASUS MEMO PAD ME172V | 076C3-0718C | 7 | 16:9 | 40 | |
| ASUS MEMO PAD ME173 | MCF-070-0948-FPC-V20 | 7 | 16:9 | 40 | |
| ASUS MEMO Pad FHD ME302 | 5425N FPC-1 | 10 | 16:9 | 40 | |
| ASUS MEMO Pad SMART ME301T | 5280N FPC-1 | 10 | 4:3 | 40 | |
| Acer iconia A1-810 | 5420026017 | 8 | 4:3 | 7 | |
| Alcatel OneTouch P320X POP8 | JDC3846FPC-B | 8 | 16:9 | 6 | |
| Asus Fonepad 7 K012 | 5581L FPC-1 | 7 | 16:9 | 40 | |
| DNS AirTab M83g | 080066-03A-V1 | 8 | 4:3 | 9 | |
| DNS AirTab M974w | PB97DR8073-04 | 9 | 4:3 | 50 | |
| DNS AirTab MC1011 | 101091-01A-V2 | 10 | 16:9 | 6 | |
| DNS AirTabe E78 | WGJ7224-V4 | 7 | 16:9 | 50 | |
| DNS AirTabe M76 | WGJ7344-V1 | 7 | 16:9 | 6 | |
| DNS AirTabe M76r | WGJ7224-V4 | 7 | 16:9 | 50 | |
| Digma Optima TT7024 | FM710301KA | 7 | 16:9 | 40 | |
| Digma Plane 7 TT702m 3G | 04-0700-0866 V1 | 7 | 16:9 | 30 | |
| Digma iDj7 | FPC3-TP70001AV2 | 7 | 16:9 | 50 | |
| Digma iDs10 | PB97DR8073-04 | 9 | 4:3 | 50 | |
| Digma iDxD8 | SG5173-FPC-V1 | 8 | 4:3 | 6 | |
| Explay Informer 701 | 300-N3400B-A00-Ver11 | 7 | 16:9 | 30 | |
| Explay Informer 703 | 300-N3400B-A00-Ver11 | 7 | 16:9 | 30 | |
| Explay Informer 921 | 300-L3456B-A00_VER10 | 9 | 4:3 | 6 | |
| Explay Surfer 702 | HLD-GG705S-G-2028A-CP-V | 7 | 16:9 | 30 | |
| Explay Surfer 831 | 080092-03A-V1 | 8 | 4:3 | 50 | |
| Explay onliner1 | FPC3-TP70001AV2 | 7 | 16:9 | 60 | |
| Huawei MediaPad 7 | TCP70B53 V10 | 7 | 16:9 | 7 | |
| Hyundai T7 | SG5317-FPC-V1 | 7 | 16:9 | 6 | |
| Lenovo IdeaTab A3000 | NTP070CM352001 | 7 | 16:9 | 8 | |
| Lenovo IdeaTab A5500 | MCF-080-1235-V4 | 8 | 16:9 | 8 | |
| Lenovo TAB 2 A7-20 | 131741E1V1.6 | 7 | 16:9 | 8 | |
| Lenovo Tab 4 TB-X304L | RS-210110400102 | 10 | 16:9 | 8 | |
| ONDA V811 | 300-L3759A-A00-V10 | 8 | 4:3 | 50 | |
| Oysters T7D 3G | F-WGJ70413-V1-PM702L | 7 | 16:9 | 10 | |
| Pipo Smart S3 | A11020700095 V03_1 | 7 | 16:9 | 6 | |
| Pocketbook SURFpad | 070239-01A-V1 | 7 | 16:9 | 40 | |
| Prestigio MultiPad Wize 3038 | PB70A2616 | 7 | 16:9 | 50 | |
| Prestigio Multipad 4 PMT7077_3G | ACE-CG78C-318-FPC | 7.85 | 3:4 | 41 | |
| Prestigio Multipad PMP7100D3G | A11020A10089_v03 | 10 | 16:9 | 50 | |
| Prestigio Multipad Ultra PMP367 | TOPSUN_C0116_A1 | 7 | 16:9 | 6 | |
| Prestigio PMP3570c | TOPSUN_C0020_A1 | 7 | 16:9 | 6 | |
| Ritmix RMD 720 | 300-N3377B-A00-V10 | 7 | 16:9 | 50 | |
| Ritmix RMD 721 | 300-N3400B-A00-VER11 | 7 | 16:9 | 30 | |
| Ritmix RMD-1020 | TOPSUN-1003A-A | 10 | 16:9 | 6 | |
| Ritmix RMD-1035 | 300-L3611A-A00-V10 | 9 | 4:3 | 50 | |
| Ritmix RMD-1040 | YTG-P97002-F1 S1 V16 | 9 | 4:3 | 6 | |
| Ritmix RMD-1050 | C237180A1-GG | 9.7 | 4:3 | 6 | |
| Ritmix RMD-855 | F0251 XDY | 8 | 4:3 | 40 | |
| Samsung Galaxy Tab 4 7.0 SM-T23 | SM-T231 IT0.7492 VER.5 | 7 | 16:9 | 60 | |
| Texet 7038W | PB70DR8332-R1 | 7 | 16:9 | 50 | |
| Texet TB-740HD | no name | 7 | 16:9 | 4 | |
| Texet TM-7037W | PB70DR8332-R1 | 7 | 16:9 | 50 | |
| Texet TM-7045 | 070379-01A-V1 | 7 | 16:9 | 6 | |
| Texet TM-7854 | 078005-02A-V1 | 7 | 4:3 | 6 | |
| Texet TM-8041HD | 300-L3759A-A00-V10 | 8 | 4:3 | 40 | |
| Texet TM-9720 | 300-L3456B-A00_VER10 | 9 | 4:3 | 6 | |
| Texet TM-9725 | C237180A1-GG | 9.7 | 4:3 | 6 | |
| Texet TM-9740 | 300-L3456B-A00_VER10 | 9 | 4:3 | 6 | |
| Wexler Tab 7000 | SC5208A-FPC-V0 | 7 | 16:9 | 6 | |
| Wexler Tab 7i | 300-L3867A-B00 | 7 | 16:9 | 50 | |
| Wexler Tab 8001 | 300-N3378A-A00-V10 | 8 | 4:3 | 6 | |



Next