Types of screens of e-readers
We observe as one production technology replaces another there throughout many years . Displays of computers and mobile devices are constantly improving. We Will dwell upon two technologies on which screens of electronic books - TFT, IPS and E-Ink are making.
Below are fragments of pictures with text displays made by different techniques.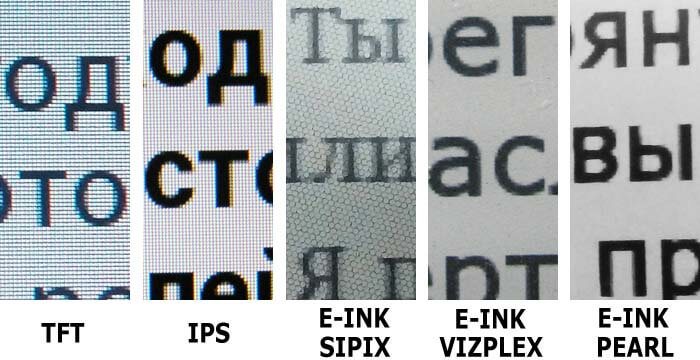 TFT-technology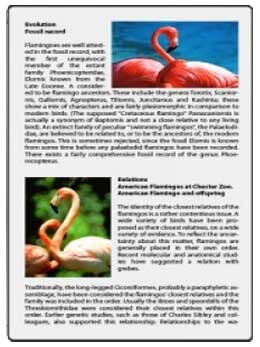 TFT - (Thin film transistor) the basis of displays is an active matrix on liquid crystals. Screens for navigators, computer monitors, mobile phones and some models of electronic books are making on TFT-technology .
Advantage of such screens is accurate, bright, more often the colour image. They differ the high speed, so we can to look through video films to play games and to read with such devices.
But such screens always shine from within, and also flicker, as the image on them is constantly updated. So our eyes are tired strong at long reading. We consider it as the basic shortcoming of TFT-screens. Secondary shortcoming of the given screens is high consumption of energy. A full charge of the battery of e-book readers with screens on a TFT-technology suffices only on few hours.
IPS-technology
IPS is an improvement of TFT technology of production of LCD screens. The main advantages and disadvantages stay at the same level. Improvements in technology have let to achieve a higher contrast, viewing angle of the screen up to 178 ° C and improved color reproduction - RGB color depth at this technology is 24 bits (8 bits per channel).
E-Ink-technology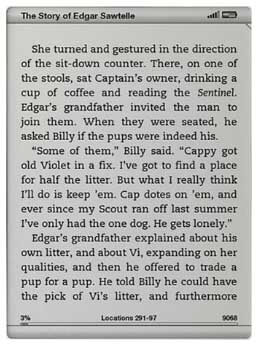 E-Ink means electronic ink or an electronic paper. This technology was created specially for imitation of the usual print on a standard paper sheet. At the heart of technology are microcapsules filled black and white microgranules. At the appendix of electric field to such capsule on its surface rise up black or white granules, providing change of colour of a capsule. More information about the principle of the e-ink.
The main advantage of such displays is absence of an internal luminescence and blinking. After image occurrence on such display and electric field is switching off, the necessary microcapsules remain painted. So such screens consume energy only at the moment of image change. Displays manufactured with a E-Ink technology consume very little power. Electronic books with screens of type E-Ink from a full charge a battery to full discharge works from one to four weeks. In user guides to such devices not stated the maximum operating time of the battery in hours. In this manuals stated quantity of browsing of pages in thousands. Usually this parametre is in limits from 5 000 to 10 000. At the average size of the book in 700 pages it is received that one cycle charge of the battery suffices on reading from seven to fourteen books. The battery in e-book readers with E-ink displays isn't so heavy and big, as in electronic books with TFT-screens.
There are basic shortcoming E-Ink of technology: the first is lower contrast range, than at TFT-technology displays. White colour at such screens is little grayish, and black is insufficiently dark. The second shortcoming is until recently E-Ink screens of electronic books for the present black-and-white. The third shortcoming - screen updating occurs much more slowly, than at TFT. At reading of books it at all does not critical, and a film playing on such screen it is impossible to look. Therefore in electronic books with E-ink technology screens do not install a video player. It just will not work.
Screens of eBooks can be touch. In this case, control of the device is carried, in addition to the keys, pressing the menu items directly on the screen. In some devices, the presence of an additional layer on the surface of the touch screen reduces the contrast. Details about the touch screens can be found on the page "Touch screens for electronic books."
Nowadays you can find several modifications of E-ink screens.
E-Ink SiPix - contrast ratio of 6:1. White color in these screens is several grayer, and black - more saturated than in VizPlex. Nowadays, the company E-ink acquired Sipix, and these screens aren't available now.
E-Ink VizPlex - contrast ratio of 7:1.
E-Ink Pearl - the contrast ratio of 10:1. More expensive and modern screen.
Not so long ago there were two new versions of screens - E-ink Pearl HD и E-ink Flex.
E-ink Pearl HD - contrast ratio of 12:1 and resolution is increased to 758 x 1024 pixels . Several firms use these displays for producing electronic books.
E-ink Flex - the same resolution, contrast 10:1. These displays were first made by the corporation LG. Instead of the glass slab used in other modifications e-ink, the E-ink Flex applicable plastic substrate . This screen is much less sensitive to hits and deformation. Nowadays, the technology is acquired by E-ink corporation and was named "Mobius".
Most recently, the E-Ink Corporation began production of colored paper-like screen E-ink triton, they are used only by the corporation Ectaco Inc. In electronic textbook Ectaco jetBook color and model company Pocketbook - Pocketbook Color Lux. The price of such devices until much higher than their black and white counterparts.
Technology of production of black and white display is also improving. The latest achievement of the corporation is E-ink Carta. The minimum contrast of the screen is 15:1 , the density of pixels per inch is about 300. Visually, the screen is 50% more contrast than E-ink Pearl.
Chinese OED Technologies CO. developed its own paper-like display, calling it O-paper. Based on the information provided on the site OED Technologies CO. technology of such displays is not much different from E-ink. Claimed contrast ratio of 12:1.
For reading in the darkness was developed lighting technology of e-ink displays. Construction of paper-like screen is that it fails to illuminate the inside, as microcapsules and the upper transparent polymer layer is very thin. Therefore, as a backlight using a set of LEDs located above the surface of the screen. So, for example, it's done in e-book Nook Simple Touch with GlowLight.
How durable are paper-like screens? Almost every e-book buyer is interested in this question. The E-ink Corporation for its display is indicates the " Lifetime " ("Service Life") equal to 10 million screen updates, or 5 years of operation. OED Technologies CO. for their displays it declares this parameter to 1 million screen updates. What exactly does this option - manufacturers, unfortunately, did not elaborate . In any case, to reach a value of 10 million page turns you need to read about 12,500 books to 800 sheets each. More about aging e-ink display on the page read "Aging of screens"
Visually to compare the sizes of the book in soft cover and E-ink displays a diagonal of 5 and 6 inches this photo will allow.
The table of parametres.
Screen diagonal

4,3"

5"

6"

6.8"

7,1"

8"

9"

9,7"

Width of work area, mm

66

76

91

103

90

122

137

140

Work area height, mm

88

102

122

138

154

163

183

203

E-Ink Vizplex (E-ink Corporation.)

The resolution of points to inch (ppi)

200

167

150

Width, pixels

600

600

825

Height, pixels

800

800

1200

Contrast

7:1

7:1

7:1

E-Ink Sipix (Sipix Imaging Inc., today - E-ink Corporation.)

The resolution of points to inch (ppi)

167

142

Width, pixels

600

758

Height, pixels

800

1024

Contrast

6:1

6:1

E-Ink Pearl (E-ink Corporation.)

Resolution pixels per inch (ppi)

200

167

140

150

Width, pixels

600

600

600

825

Height, pixels

800

800

1024

1200

Contrast

10:1

10:1

10:1

10:1

O-paper or OED E-ink (OED Technologies CO., LTD.)

Resolution pixels per inch (ppi)

233

167

160

Width, pixels

600

600

758

Height, pixels

800

800

1024

Contrast

12:1

12:1

12:1

E-Ink Pearl HD (E-ink Corporation, LG DisplayCompany.)

Resolution pixels per inch (ppi)

212

265

250

Width, pixels

758

1080

1200

Height, pixels

1024

1440

1600

Contrast

12:1

12:1

12:1

E-Ink Flex (E-ink Corporation, LG DisplayCompany.)

Resolution pixels per inch (ppi)

212

Width, pixels

758

Height, pixels

1024

Contrast

10:1

E-Ink Carta (E-ink Corporation.)

Resolution pixels per inch (ppi)

212

265

Width, pixels

758

1080

Height, pixels

1024

1440

Contrast

15:1

15:1

E-Ink Carta HD (E-ink Corporation.)

Resolution pixels per inch (ppi)

300

Width, pixels

1080

Height, pixels

1440

Contrast

15:1



Next