Repairing tape wire
Attention: tha authors aren&aops;t responsible for the malfunctions of the devices, which can appear as a result of using this information. Everything you do is at your own risk!
In mobile devices (smartphones, tablets, e-readers), which have been in the water, one or another flexible tape wire often breaks down. Usually, as a result of corrosion one or two conductors in the area of pin with a connector are destroyed. It happens in a few hours and usually in supplying chains through which flows a large current.
It is impossible to reestablish the metallization of the tape wire in the place, where it contacts with the connector by soldering since the conductor should be very thin, wide and flat in order to provide the contact with the knife pin of the connector.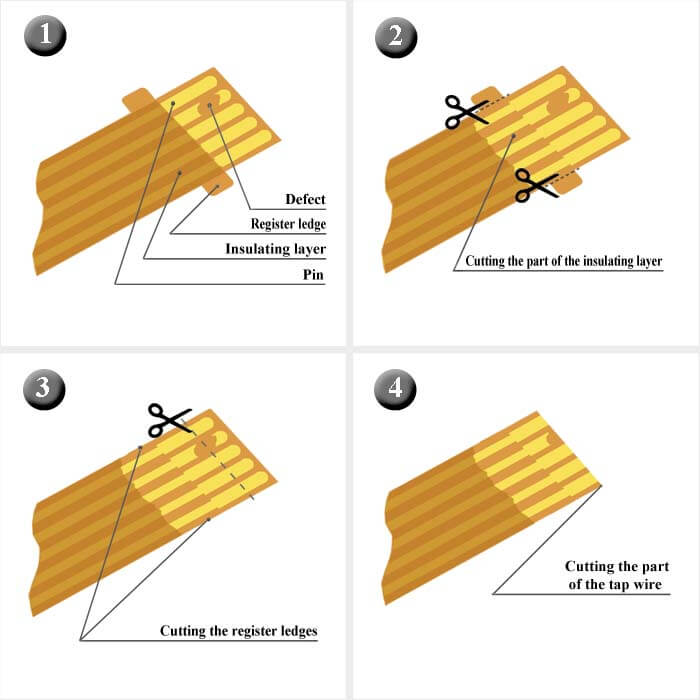 But if the tap wire has a stock of length at least 3-4 mm, then you can reestablish it this way:
Firstly, you should carefully remove the insulating layer baring the contact area on another 2 - 3 mm (pic. 2). It is recommended to do it in two steps: firstly, you should make the area rough by the fine sandpaper and then carefully scratch the area we need with the scalpel. While doing it scalpel blade should be placed perpendicular to the tap wire in order to scrath but not cut.
Then with the help of the scrissors you shold cut the register ledges of the tap wire (pic. 2, 3). It will make the connection of the tap wire to the connector more laborious but it will be paid off by the result of the operation.
After that, you should very carefully cut a very thin piece of a tap wire with the scrissors from its&aops; end (pic. 3, 4), assemble the device and check it. If it is not enough then repeat this step 2 or 3 times.
As a result it is often (but not always) possible to renimate the device, which is broken and at first sight seeming irretrievably broken.



Next