Kobo e-readers
Canadian corporation Kobo inc. was recently bought by Japanese company Rakuten. Kobo eBooks brands are included in the four most popular devices for reading in America and Canada, along with the Amazon Kindle, Nook Simple Touch and Sony. All devices lineup Kobo have slim ergonomic body and touch screen. To operate the unit are only a power button and the device power button backlight (in models with LED backlit screen). All other operations are performed with the reader with a touch screen.
All e-book readers Kobo have a very large resource of the battery. In the specifications on the manufacturer's website says that the Wi-Fi off and lighting a single charge should last an average of one month of reading (for models Kobo mini, Kobo touch, Kobo glo) and two months of reading model Kobo aura.
All Kobo readers have wi-fi module.
For Russian-speaking users Kobo book has quite a few disadvantages: the basic format for reading books is EPUB, support FB2, DJVU - no. Also there is no the Russian interface and foreign-Russian dictionaries in the original firmware. Books must be pumped a bunch of the root folder, subfolders aren't supported (only collection).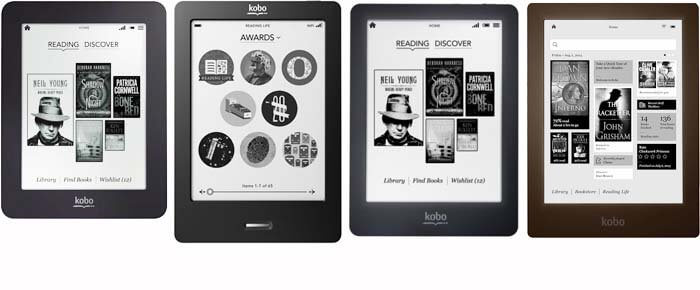 | | | | |
| --- | --- | --- | --- |
| Kobo mini | Kobo touch | Kobo glo | Kobo aura |
Kobo mini model is a budget version of the reader with a five-inch screen. The book fits easily into a pocket, but for the small size has to pay no slot for a memory card. Device screen E-ink Pearl is 600 x 800 pixels. Internal memory - 2 Gb, of which the user can 1 Gb. The software takes rest place.
Kobo touch has the same resolution and screen type as Kobo mini. Diagonal - 6 inches. In this model it is already possible to install micro SD-card. The internal memory is also only 2 Gb, but only 1 Gb can be used.
Kobo glo is like the Kobo touch on characteristics. Unlike in the case design, available adjustable LED backlight, its resolution – 758x1024 pixels and scope of internal memory - 2 Gb all available to the user - 1,32 Gb. In the reader has applications for working with social networks Facebook and Twitter.
In Kobo aura internal memory and battery life is doubled. Other parameters are like the Kobo glo.
General characteristics for all e-book readers:

Advantages of construction and grade: Display of the latest generation , durable, beautiful slim case, high quality and reliability of production.
Disadvantages of construction and grade: a poor grade. Power supply and cover is sold separately, there are no turning keys.
Advantages of software: simplicity and reliability, fonts mode "smoothing", Wi-Fi supporting, the ability to install custom fonts, the presence of English explanatory dictionary.
Disadvantages of software: are not supported text formats (FB2 - does not understand), there is no supporting of folders on the memory card (all the books spread out on the folders are on the bookshelf one bunch), there is the Russian language in the menu to the factory firmware there are no Russian word wraps.
Some disadvantages of the software of these models can be eliminated by installing additional software to read text COOLREADER, how to do it is written here: Coolreader in Kobo.
Selection of resources in the internet reader Kobo (created in Russian dictionaries, file of word wraps, firmware, instructions, discussions), found in the "Links."
The table of parametres.
Display and flash card
Formats of files
Fonts and bookshelf
Complete set and functions
Mo­del of e-rea­der
Disp­lay
Flash ca­rd
Di­a­go­nal
Type
Re­so­lu­tion
Cont­rast
Touch­scre­en
Back­light
SD
Mic­ro SD
Kobo Aura
6
E-ink Pearl HD
758 x 1024
12:1
Kobo Aura H2O
6.8
E-ink Carta
1080 x 1440
15:1
Kobo Aura HD
6.8
E-ink Pearl HD
1080 x 1440
12:1
Kobo Aura One
7.8
E-ink Carta HD
1404 x 1872
15:1
Kobo Glo
6
E-ink Pearl HD
758 x 1024
12:1
Kobo Glo HD
6
E-ink Carta HD
1072 x 1448
15:1
Kobo Mini
5
E-ink Pearl
600 x 800
10:1
Kobo Touch
6
E-ink Pearl
600 x 800
10:1
Kobo Touch 2.0
6
E-ink Pearl
600 x 800
10:1
Mo­del of e-rea­der
Text for­mats
TXT
PDF
EPUB
MOBI
FB2
DJVU
HTML
ZIP
Kobo Aura
Kobo Aura H2O
Kobo Aura HD
Kobo Aura One
Kobo Glo
Kobo Glo HD
Kobo Mini
Kobo Touch
Kobo Touch 2.0
Mo­del of e-rea­der
Font / text
Book shelf
TTF
Car­ryings
Foot­no­tes
Fol­ders on a SD-card
Fi­le na­mes
Au­tors / book na­mes
Book co­vers
Fi­le ma­na­ger
Kobo Aura
Kobo Aura H2O
Kobo Aura HD
Kobo Aura One
Kobo Glo
Kobo Glo HD
Kobo Mini
Kobo Touch
Kobo Touch 2.0
Mo­del of e-rea­der
Equ­ip­ment
You can down­lo­ad
OS
WiFi
User ma­nu­al
USB ca­ble
Char­ger
Co­ver
Ap­pli­ca­tions
Alt. Firm­wa­re
Dic­tio­na­ry
Kobo Aura
Linux
Kobo Aura H2O
Linux
Kobo Aura HD
Linux
Kobo Aura One
Linux
Kobo Glo
Linux
Kobo Glo HD
Linux
Kobo Mini
Linux
Kobo Touch
Linux
Kobo Touch 2.0
Linux



Next