MP3-players for audiobooks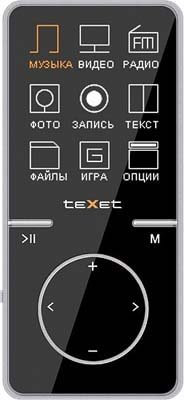 Nowadays audiobooks are very popular, as when you listen to them, you can do some work at the same time. For example, cook dinner, do some sports or clean the flat. Many people use their smartphones as payers, but it's not always convenient. A smartphone is big in size and continuous operation of its battery doesn't last long.
In modern and cheap MP3-players like Texet, Wexler, Ritmix and so on developers chase the creation of maximally versatile device. In such players there are many unnesessary functions, not related to playing audio files. For example, playing video, reading texts, playing games on a very little screen. As a result of such a modernization, suffers the reliability of the device and convenience of using and quality of sound reproduction.
It appeared, that it's not so easy to choose a good quality player for listening to audiobooks, as it seems.
In this material we'll try to show the most qualitative modern devices for listening to music and audiobooks. While listening to audiobooks there are some specific requirements. It's connected with such thing, as an audiobook often consists of several tens or even hundreds of files. And when there are several audiobooks in player's memory, it's necessary to put them into different folders. Manufacturers of audiobooks don't keep one format (for example, MP3), on the contrary, books can be of different formats. So, for audiobooks it's necessary to have in player:
The opportunity to continue playing where you left off;
The ability to play audio files in folders;
The presence of the display to find the folder you need (audiobooks);
Support of the maximum number of audio formats;
The presence of a large amount of memory;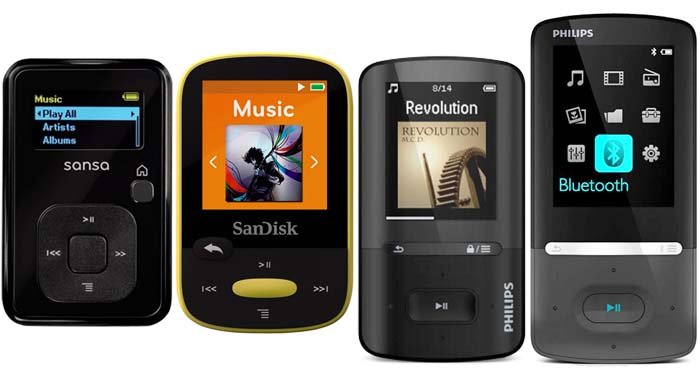 | | | | |
| --- | --- | --- | --- |
| Sandisk Sansa Clip+ 4GB, Clip+ 8GB | Sandisk Sansa Sport 4GB, Sport 8GB | Philips SA4VBE04, SA4VBE08 | Philips SA5AZU04, SA5AZU08 |
Sandisk Sansa Clip+ and Sandisk Sansa Sport - two models which have a fantastic quality of sound, probably, the best in the lineup of players we speak about. Both these devices have a support of a big amount of formats of audio files. Sandisk Sansa Clip+ is smaller in size than Sandisk Sansa Sport, so smaller is the display and capacity of the battery. Sandisk Sansa Sport differs from the Sandisk Sansa Clip+ by the presence of a spring-loaded clips for attaching the player to clothing. The model Sport at last understands as audiobooks not only foreign Audible format (100% paid content which is not prevalent in Russia), but FLAC and MP3. So, Sandisk Sansa Sport, the only model of players we speak about in this review, the "Audiobooks" mode is not useless, but works as we need. The name of Audiobook is taken not from the folder, but from tags of audio files. There are no useless functions in the menu of these players, everything is laconic and clear - a player for music and audiobooks. In both models of the players there is a slot for a micro-SD card up to 32 Gb.
Philips SA4VBE08 (8Gb of internal memory) and Philips SA4VBE04 (4Gb of internal memory) is characterised by good quality of sound and reliable design. It's convenient to use, but it has some useless functions, like watching videos and playing audiobooks in format Audible. To play audiobooks or other tracks you've to use the point of menu "FILES". Tracks are played in accordance with the playlist, but if you have not created it, files are played in the order in which they were recorded in the player's memory (not in alphabetical order)
Philips SA5AZU08 (8Gb of internal memory) and Philips SA5AZU04 (4Gb of internal memory) - these players have bigger resource of the battery and size of the display, added the ability to play files over the Bluetooth on the headset or on the car radio.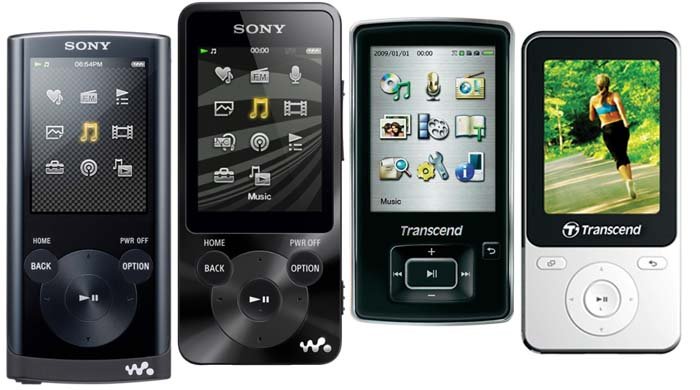 | | | | |
| --- | --- | --- | --- |
| Sony NWZ E383 4GB, E384 8GB | Sony NWZ E583 4GB, E584 8GB | Transcend MP870 8GB | Transcend MP710 8GB |
Sony NWZ E384 (8Gb of internal memory) and NWZ E383 (4Gb of internal memory) – players in metal case with a very good sound. As is in Philips' models, there is a function of playing video in the menu. There's no special point for audiobooks. You've to use points "Music" and "Folder". SONY players are not seen as a particular disk while connecting to the computer, but they're seen only in the conductor as a device of SONY, and that's not always convenient.
In MP3-players Sony NWZ E584 (8Gb of internal memory) and NWZ E583 (4Gb of internal memory) was increased the size of the screen and the resource of the battery. Of the supported formats was added FLAC (no mention in instructions, but was checked by users).
Transcend MP870 and MP710 both have 8 Gb of internal memory. Model MP870 is more interesting. There is a slot for a memory card, big number of supported formats, than MP710, but the last much longer continuous operation on a single charge is. In the menu of these players there are many useless functions, there's no point of menu for audiobooks. You've to use folder "Music" or "File management".
Table of parameters.
Brand
Sandisk
Philips
Sony
Trans­cend
Model
Clip +
Sport
SA4VBE04 / SA4VBE08
SA5AZU04 / SA5AZU08
NWZ E383 / E384
NWZ E583 / E584
MP870
MP710
Size of internal memory, Gb
4 / 8
4 / 8
4 / 8
4 / 8
4 / 8
4 / 8
8
8
Slot for micro-SD card *
to 32Gb
to 32Gb
to 16Gb
Display size, inches
1.00
1.44
1.77
2.20
1.77
2.00
2.40
2.00
Display resolution, pixels
320 x 240
128 x 128
128 x 160
320 x 240
128 x 160
320 x 240
320 x 240
320 x 240
Continious operation on a single charge, hours
15
25
20
35
30
77
22
42
Playing the format MP3
Playing the format FLAC
Playing the format AAC
Playing the format OGG
Playing the format PCM
An ability to play a particular folder
Playback from the stop point
Support of playlists
The presence of equalizer
Signal / noise, db
89
89
84
84
90
90
User manual
Official site

SANDISK.COM

PHILIPS.RU

SONY.RU

TRANSCEND-INFO.COM
* - according to the the operating instructions, really - maybe more.



Next