Flexible ribbon cables of e-ink screens
It is important to know that the screens with the same markings of the model can be made with the functions of backlight and sensor and without them. for the correct order of a new screen instead of the broken one. The only difference is their appearance: the number and location of flexible ribbon cables.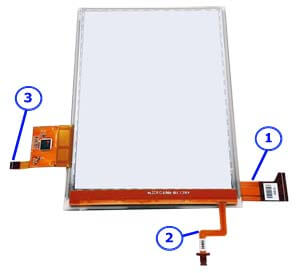 Any e-ink screen is connected with the e-reader by an informational flexible ribbon cable (1). It transfers some information about graphic information which is on the screen. There is usually a label with an alphanumerical marking of the model and a label with the compensation voltage VCON on this flexible ribbon cable. Constructively, the informational flexible ribbon cable can be located on any side of screen and have different shape depending on the model of the screen.
Nowadays many e-books have a function of regulated LED backlight. There is a line of LED's built into the displays of such e-readers. For connecting of power supply voltage the flexible ribbon cable is used (2). It is always narrow and it is usually located close to one of the bottom angles of the display.
If your e-reader has a capacitive sensor screen, then the display has a flexible ribbon cable of the sensor (3). It always has a specific shape: it is wide in the foundation of the display and narrow in the end. There is a microcircuit-decoder located in the wide part.
Pay attention that not every e-book with a sensor screen has such a flexible ribbon cable in the display. In order to understand why it happens so it is necessary to understand the construction of different types of sensor screens. First, the Amazon Kindle Voyage and some old SONY models of e-readers have the display which is protected by the glass (touch screen) above on which there is a sensor as it is made in all tablets. Second, in the e-books with infrared sensor (a line of models of Amazon Kindle and the latest SONY, KOBO and NOOK) it is a separate device containing the sensors located around the display.
Just in case we remind you again. Be attentive when you order a new screen as displays with additional functions of backlight and sensor have the same markings as displays without these functions. The only difference is the appearance - the number of flexible ribbon cables. Compare the photo in the site of the shop with the screen of your e-book.



Back